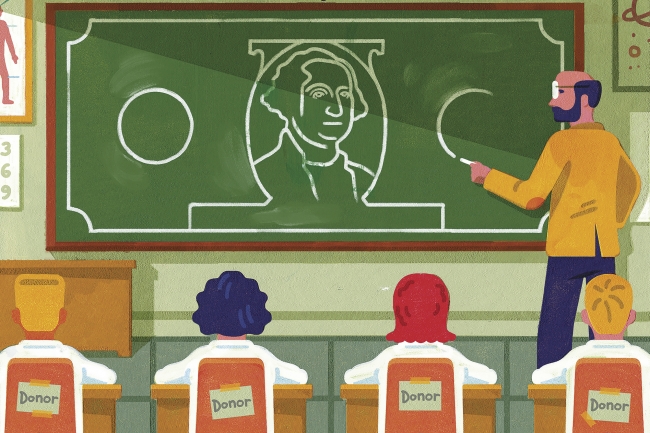 From The Chronicle of Philanthropy: All Donors Need More Education — Not Just the Wealthy
From The Chronicle of Philanthropy
The recent wave of books and articles criticizing American philanthropy and billionaire donors is missing an important point. Of the $286 billion given by individuals in 2017, just $80 billion came from "the top 1 percent" according to IRS figures.
The rest came from small and midsize donors, most of whom devote less than two hours a year — five minutes a week — to due diligence before making a charitable gift. Americans spend hours researching restaurants, cars, and insurance policies, but fewer than 10 percent of donors bother to compare organizations before giving.
These depressing facts come from a 2015 Camber Collective report, "Money for Good," which concludes: "Donors feel overwhelmed by the giving process, they are often uncertain where to start, don't have the information they want, feel pressed for time, and hence default to comfortable but less effective giving habits."
I became aware of a glaring disparity in access to donor education after completing a transformational course in strategic philanthropy offered to wealthy donors by the Philanthropy Workshop. (As I do not have the resources of my ancestors, I probably qualified because of my family's 300-year tradition of charitable giving in Rhode Island, notably to Brown University.) But once I was equipped with the tools to give effectively, I noticed how few people around me, particularly those who gave $10,000 to $100,000 annually, were aligning their donations with their passions. Since they had no strategic road map to follow, they often felt confused and dissatisfied.
Donor education is needed at all levels of wealth, from the employee who makes payroll deductions to United Way to the multimillionaire with a family foundation. As noted by Paul Brest, former head of the William and Flora Hewlett Foundation, "Despite the increasing belief that the work of the sector should rest on goal-oriented, evidence-based strategies, very few donors actually follow these principles." (Hewlett is a financial supporter of the Chronicle of Philanthropy.)
Ultra-high-net-worth individuals can take advantage of the philanthropy advisory services of private banks, or they can hire consultants. Organizations that serve donors, such as Exponent Philanthropy or the National Center for Family Philanthropy, provide robust educational resources for fee-paying members whose typical gift size is more than $100,000. No one wants to offer low-cost donor education to individuals who are not a source of fees.
Some community foundations and donor-advised funds hold free or low-cost workshops and webinars. Some major players include educational pages on their websites, such as Fidelity Charitable's "Boost Your Donor IQ," the Bridgespan Group's "Give Smart," and the Philanthropic Initiative's "Learning Center."
There are a half-dozen books on effective giving and one MOOC, Laura Arrillaga-Andreessen's Giving 2.0. But of necessity, these guides adopt a "one size fits all" approach and remain overly generic. And most manage to alienate smaller donors by citing case studies of billionaire philanthropists.
Once I finished mapping the situation — and more determined than ever to use my skills and experience to help others give better regardless of their wealth — I sought out intermediaries who would find it beneficial to provide practical guidance for donors at all levels. The most promising group, I concluded, are the trusted financial and legal advisers who already know so much about their clients' circumstances.
But the current "philanthropic conversation," a term coined by the US Trust and the Philanthropic Initiative, is not good. According to their most recent joint study, a majority of clients want their adviser to assist with philanthropic decisions, but only a tiny minority feel advisers know how to "give to make a difference." Conversely, the study concludes that advisers acknowledge that discussing philanthropy is good for business — two-thirds want to learn more about giving — but feel their existing resources are inadequate
To test this finding, I enrolled in the Chartered Advisor in Philanthropy online certification course offered by the American College of Financial Services.
I learned about strategies for integrating philanthropy into estate planning, about taxes and charitable-giving vehicles, about successful fundraising and ethics, but nothing about where the money should go — how to choose a cause and where to intervene, how to measure social impact, and how to select and engage with nonprofits.
The equivalent would be a financial adviser preaching the importance of investing in the stock market and providing clients with the necessary liquidity yet giving them no advice on which equities to buy.
It is therefore hardly surprising that a majority of clients consider their advisers good at discussing personal charitable goals but feel they focus only on the technical aspects of philanthropy, such as tax considerations or wealth structuring, instead of answering the clients' most pressing questions: "Will my gift be used wisely?" and "How can I learn about a charity?"
The same issue exists for the wealthy families who are being primed to give by consultants and facilitators specializing in legacy and communications issues — and then left hanging.
Again, I investigated this situation by enrolling in a course offered by "21/64," an organization dedicated to helping families involve their children and grandchildren in giving. When it ended, I asked the instructor, "You have given me all the tools to inspire families toward philanthropy and to prepare their mission statement, but who is going to help them figure out how and where to give?"
"They can hire a philanthropy adviser," she answered. I thought to myself, Well, what about all the donors giving well under $100,000 who cannot justify this expense — how are they to experience the joy that comes from following a passion strategically and thoughtfully?
Indeed, using brain-imaging technology, researchers can see the midbrain light up when people donate, the same area of the brain linked to cravings (such as chocolate and sex) and pleasure rewards.
Yet a study by UBS titled "Doing Well at Doing Good — Why There's More to Giving Than Checkbook Philanthropy" concluded that only two in five donors surveyed were "extremely" or "very" satisfied. Only one in five rated his or her efforts as highly effective. The good news, however, is that even a little planning improves satisfaction by almost 50 percent.
Donors are also eager to share experiences but often shy about discussing their giving outside of safe spaces. The proliferation of "giving circles," geographical or caused-based donor groups that gather to educate themselves and provide greater impact through larger grants, is proof of this desire for fellowship and a more fulfilling giving experience.
Some philanthropists, such as Jeff Raikes, recognize that "educational experiences with a lower barrier to entry, both in cost and level of engagement," are needed for "BMW donors," his term for midlevel donors.
In 2017, he launched Giving Compass.org, a website that aggregates and curates information on trends, trustworthy approaches, and resources in philanthropy. But its use requires familiarity with the field and does not provide a much-needed strategic framework for processing the information.
Other philanthropists fund the development of giving apps and platforms that enable donors to make easy, spur-of-the-moment donations, but these do not incite even a minimal investment in time and thought required to be strategic and effective.
Thus, it is wealth advisers, financial planners, trust and estate lawyers, and tax advisers who have the greatest vested interest in seeing philanthropic education programs developed, both for themselves and for their midsize clients. Many already offer their clients access to virtual financial literacy courses, which require no staff time to run and are inexpensive to produce. They could offer similar virtual donor-education courses that are emotionally engaging (not more PowerPoints and talking heads), practical and specific, providing both concrete case studies (of midlevel donors, not billionaires) and opportunities to learn from one another. A small investment in compelling products would generate outsized returns in client satisfaction.
Other obvious participants in the drive to improve the philanthropic practices of midlevel donors are donor-advised funds such as the behemoth Fidelity Charitable, which distributed $4.5 billion in 2017 from accounts with a median size of only $19,000. Fidelity Charitable and the other large DAFs are in a strong position to ensure this money really makes the most difference by offering enticing educational products to all their clients.
As many recent books and articles have noted, charitable contributions from the wealthiest donors have increased significantly over the past decade while giving by small and midlevel donors (who traditionally make up the solicitation lists for most national nonprofits) have declined by about 2 percent annually. There are calls for legal and fiscal changes, including altering charitable-deduction rules, taxing foundations, and increasing government's involvement in civic society. But so far, no one has suggested that a sensible investment of time and money in donor education for all might lead to higher and more effective levels of giving and, more important, to a lot more joy.