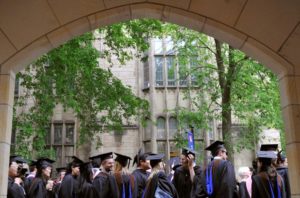 It May Be Time To Rethink Your Annual College Donation
This article was co-authored with Ayele Shakur, CEO of BUILD, my Encore Public Voices Fellowship colleague – First appeared on WBUR's Cognoscenti platform: https://www.wbur.org/cognoscenti/2019/05/07/college-donation-inequality-sylvia-brown-ayele-shakur
Alumni often donate to their universities as a tribute to the education they enjoyed, and to allow others the same experience. But they rarely consider whether their donations would have a much greater impact at local public universities or nonprofits that work to send more students to college.
It is time to rethink the near sacrosanct tradition of giving to higher education, particularly since it mirrors our coun
try's unequal distribution of economic gains. The 20 top schools — a minuscule percentage of America's more than 4,000 colleges and universities — raised 28% of the $46 billion given to higher education last year. Seven schools received gifts of at least $100 million. Harvard, Stanford and Columbia each raised more than $1 billion.
It may seem strange that we are questioning giving to universities. Sylvia Brown is a University of Pennsylvania alumna and her family has supported Brown University since 1764; Ayele Shakur, a Harvard alumna, is CEO of BUILD, which uses entrepreneurship to propel youth from under-resourced communities to college. We recognize nine out of 10 new jobs created in 2018 went to workers with a college degree. Neither of us doubts the transformational impact of higher education nor the vital importance of university-based research and innovation. But we are alarmed that the growing number of mega-gifts to the same few exceedingly well-endowed universities is not solving the complex college access challenge.
The 20 top schools … raised 28% of the $46 billion given to higher education last year.
Giving by wealthy families to wealthy universities only deepens and exacerbates inequality in America. Universities have slick fundraising machines and built-in donors: pools of grateful — and often nostalgic — alumni, who graduate with an ingrained expectation of giving to their alma mater.
Harvard has an endowment of $39.2 billion. By sharp contrast, the median U.S. university endowment is just $8 million. A $100 million donation dropped into a vast sea of endowments barely makes a ripple, but that same gift judiciously invested in nonprofits or smaller colleges could have a catalytic impact.
For example, 85% of BUILD students will be the first in their families to earn a bachelor's degree, but none will join the 1,650 incoming freshmen at Harvard this year. Zolan Dangerfield is a high school senior in Boston who plans to major in international business, a field he was exposed to during his time in BUILD's youth entrepreneurship program. Zolan was accepted to eight schools and will be the first in his family to attend college.
The question for him is not which school has the fanciest meal plan but rather the cost of tuition and how his family will cover the $5,000 he needs, after financial aid, to attend his first choice, Worcester State University. With luck, Zolan will finish in six years, working part-time jobs. Far too many first generation kids eventually drop out of college because they cannot afford tuition and also find themselves ill-prepared by their under-resourced high schools.
This is why the Varsity Blues scandal is particularly insulting to those of us working to improve access to higher education. This is why the recent $25 million gift to Brown University by an alumnus, Orlando Bravo, to fund the Orlando Bravo Center for Economic Research to study inequality makes little sense to us who think about maximizing impact.
Before writing a big check to Harvard … remember students like Zolan, who would be thrilled to get a $5,000 scholarship for Worcester State.
Indeed, many universities have failing public school systems right in their own backyards, and as they expand their tax-free real estate footprint, they exact dire consequences on their neighborhoods. A 2018 report by RentCafe showedthe high levels of gentrification brought about by private universities expanding in urban areas, displacing longtime low-income residents. At the same time, public K-12 school districts receive very little support or partnership with these neighboring institutions of higher learning. The University of Southern California in South-Central Los Angeles and Columbia in pre-gentrified Harlem are both blistering examples of universities with major endowments doing very little to invest in their communities. As endowments go up, the number of college seats available to children who play in the shadows of these behemoth institutions stays stagnant. These same institutions are advancing income disparities and inequities along with their degrees.
Spring is a particularly challenging time of the year, when students receive their college acceptance letters and grapple with which schools they can actually afford to attend. Before writing a big check to Harvard, Yale or Georgetown, remember students like Zolan, who would be thrilled to get a $5,000 scholarship for Worcester State. There are great kids trying to make the giant leap to college — the passport to the middle class — without enough investment to lift their wings.
Let's take this opportunity to not only rethink admissions but also to rethink philanthropic investments in higher education. Our country does not suffer from a lack of resources. We suffer from misguided priorities about where those resources should go.